Earlier this year, during a visit to Uzbekistan as part of the UNECE Project Team for Traceability and Transparency for Sustainable Value Chains, our Managing Director, Deborah Taylor, had the opportunity to meet with representatives of the Leather Association of Uzbekistan, Uzcharmsanoat.  As a result of that first meeting, we were invited to return to visit some tanneries there and to participate in the Uzcharm Leather Expo which took place on 12-14th October 2022. 
Although not well known outside of Central Asia where most of their customer base sits, Uzcharmsanoat Association boasts 700 connected members made up of leather manufacturers and product manufacturers of primarily shoes, apparel and leathergoods.  The association with the financial backing and support from the State Government is now committed to meeting international standards in order to develop their ability to work with European and American partners.  During the week long visit, discussions were held with various representatives about how SLF can support that work through training, education and certification, and this culminated in the signed of a Memorandum of Understanding to: identify joint areas for cooperation, establish a structured program for continuous improvement; provision of training, support and certification.
More detailed discussions will continue during December when a delegation from Uzbekistan plan to visit the UK to meet with SLF and other stakeholders.
What of the current level of performance of these tanneries?
Deborah visited two leather manufacturers having asked in advance to see a "real" picture of the current level.
Angren Charm Tannery in the Tashkent region was a well-appointed and extremely well organised facility.  The machinery was cleaned and covered each evening with the original covers and the owners have invested heavily to ensure optimised efficiency. Already working with Italian and European customers, Angren Charm has its own effluent treatment plant and co-generation technology so is well on the way to meeting international expectations.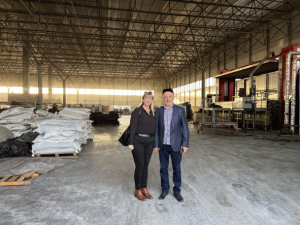 Hamkor Nur, another facility in the Tashkent Region was less advanced but showed great potential for improvement.  Taking raw material through to finished leather, the facility deals with bovine primarily with a small amount of sheep and goat.  At this facility there were clear areas where improvement would be necessary but with a program of work and a willingness to meet the needs, there is great potential for this site to also expand into the international markets. 
Both companies are in the process of joining SLF so that we can start that improvement work them and ultimately audit and certify their compliance.
This could be a really exciting time for both the Uzbekistan leather industry and for brands and retailers in the EU and America who are looking to invest in new sourcing regions.
In other news, during the recent APLF Asean edition in Bangkok, the Chair of our Advisory Board, Hans van Haarst who is the CEO of Royal Smit & Zoon, gave a seminar on how ESG can support better profitability for organisations, and we had a great response.  It is vitally important that industry recognises that good sustainability includes profitability and that by embracing the key principles of ESG, return on investment is possible for people, planet and profit.
We are now planning for our end of year Partner Meeting which will take place on 15th December 2022 from 1.00 to 5.00 pm (UK), hybrid for both in person and virtual attendance.  If you are not already a partner of the SLF but would like to attend, please email for a guest registration:  info@sustainableleatherfoundation.com
Also upcoming is the ILM Webinar on "Futureproofing our Leather Industry" which we are guest hosting and moderating.  You can find out more and register free here: